WAT IS… | HIELSPOOR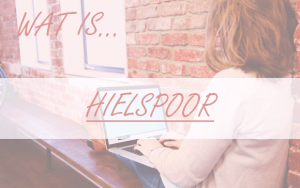 Hielspoor geeft een gemene pijn aan de onderkant van de hiel. Je voelt de pijn onder de hak en mogelijk straalt deze uit naar de zijkanten van de hiel.

De pijn komt vooral tot uiting wanneer je vanuit ruststand de voeten belast. Een voorbeeld hiervan is als je 's morgens opstaat uit bed, of weer loopt na een lange autorit. De oorzaak hiervan is dat de peesplaat verkort in ruststand. Zodra je weer begint met lopen rekt de peesplaat weer op. De pijn vermindert snel als je een tijdje in beweging bent. Helaas komt de pijn ook weer terug zodra je weer opnieuw uit ruststand in beweging komt.
Twijfel je of je hielspoor hebt? Loop er dan vooral niet te lang mee door; het probleem wordt daardoor groter en lastiger te behandelen. Maak een afspraak bij de podotherapeut.