WAT IS | het verschil tussen een podotherapeut en een podoloog?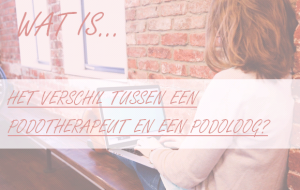 In de praktijk blijkt dat de verschillen tussen podotherapeut en podoloog niet bij iedereen bekend zijn. Toch zijn er wezenlijke verschillen tussen deze twee beroepen. In dit artikel belichten we de belangrijkste verschillen tussen de podoloog en de podotherapeut.
Podotherapeut
De titel 'podotherapeut' is een door de wet BIG beschermde titel (artikel 34), en mag alleen gevoerd worden na afronding van een wettelijk erkende HBO-bachelor degree. Een podotherapeut (paramedicus) valt onder het Ministerie van Volksgezondheid, Welzijn en Sport en is een wettelijk erkend, paramedisch beroep. Podotherapeuten moeten voldoen aan strenge kwaliteitseisen en staan veelal geregistreerd bij de Vereniging voor Nederlandse Podotherapeuten (NVvP) en het Kwaliteitsregister Paramedici.
De behandeling van een podotherapeut bestaat bijvoorbeeld uit het aanmeten van podotherapeutische zolen of een siliconen teenstukje. Een podotherapeut kan tevens instrumentele behandelingen uitvoeren. Hieronder valt het maken van nagelbeugels, silicone-orthesen en het uitvoeren van wondbehandelingen bij diabetespatiënten. Daarnaast geeft de podotherapeut schoenadvies en voorlichting ter voorkoming van diverse klachten.

Podoloog
De titel 'podoloog' is onbeschermd en mag door iedereen gebruikt worden. Podologen vormen, in tegenstelling tot podotherapeuten, een commercieel beroep en vallen onder het Ministerie van Economische zaken. De behandeling van de podoloog bestaat uit het toepassen van corrigerende of beschermende technieken, zoals ortheses, schoen- en zoolcorrecties, tevens kan een podoloog patiënten advies geven om klachten te voorkomen en te verhelpen.
Binnen de podologie wordt door Stichting Loop, onderscheid gemaakt tussen een 'podoloog' en een 'registerpodoloog'. Omdat iedereen zichzelf podoloog mag noemen, heeft Stichting LOOP de term 'registerpodoloog' in het leven geroepen. Sommige registerpodologen hebben een scholingsmodule afgerond welke HBO niveau heeft. We spreken dan van een registerpodoloog B. Echter, er zijn aan deze module geen toelatingseisen verbonden, en de module is niet dusdanig geaccrediteerd dat het Ministerie van Onderwijs er een officiële HBO 'bachelor-degree' aan toekent.